Learn to fly on an intensive 2 week course.
Perfect weather and location in which to learn.
Internationally recognised qualifications.
Highly experienced instructors, we live and breathe paragliding.
Luxury accommodation (video here) with no room sharing.
Meals included.
Elementary Pilot (EP) Course
The Elementary Pilot rating is the first basic step. It is issued once you have completed some easy tasks and flown a number of solo flights. The EP course is fun and a great introduction into the sport: learning is easy and progression is made quickly. This normally takes 5 days of training. You must complete this before moving on to Club Pilot stage.
Club Pilot (CP) Course
The Club Pilot (CP) rating is what you need to be able to fly solo safely without instructor supervision. It is equivalent to FAI ParaPro Stage 3 and is internationally recognised in most countries. This normally takes a further 5 days. This course includes some theory lessons which provide you with all the knowledge (and more) which you need to pass your multiple choice exams. There is an excellent guide from the BHPA which you can download here.
Learn on your own, brand new equipment which you can then take home!
This package contains all the parts you need to get airborne. It's the same equipment we use in the school and comes highly recommended.
Glider - BGD Adam
Harness - BGD Snug
Reserve Parachute - BGD Oops!
All this for the absolutely unbeatable price of
€4395
This includes the EP and CP training courses with transfers, accommodation etc as listed elsewhere on the website.
Other gliders are available for example, the BGD Epic or Magic. Please contact us for advice.
7 Reasons to Fly 4 Seasons
Luxury Accommodation - No Room Sharing!
---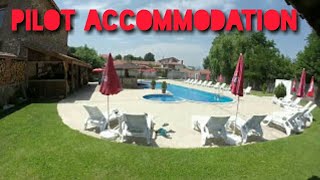 You won't have to worry about sharing a sweaty dorm room or even worse, shared bathrooms. You get your own air-conditioned, ensuite room. There's a swimming pool (seasonal) and an outdoor jacuzzi (year round). Beautiful gardens and a bar onsite. Very fast and free WiFi.
---
Meals are Included
---
You won't be left to find your way around local restaurants/shops after a hard day on the hill. No arguing when the bill comes over who had the T-bone steak etc. Our hearty breakfasts will set you up for a day's adventure. The evening meal is an à la carte 3 course feast. One evening per week, the kitchen is closed and you'll be accompanied to a local town for a meal in a restaurant of your choice.
---
New Equipment
---
We don't use old equipment in our school. Only the latest models and all regularly changed long before they reach end of life. We use reserve parachutes from day one.
---
A small school, we keep student ratios low. Only 3 students per instructor
---
Only 3 Students per instructor. Our student/instructor ratios are lower than BHPA recommendations and we believe this is critical to your success. We are not the biggest school, we like it like that. We're able to provide a flexible and personal service, you'll get all the attention you need to get qualified.
---
Modern, Air Conditioned Vehicles
---
Travel in comfort both to and from the airport and during your training. Airport transfers are included.
---
Huge Selection of Training Sites
---
We can cover all wind directions. Weather has never caused any of our students not to get their ratings.
---
Continuing Support
---
After training we're always available to assist with any queries and questions. Our pilot development courses, trips and further training are the best way for you to build your experience and confidence. Be part of the team.
---
---
One of Our Recent Courses