From absolute beginner to qualified pilot with an internationally recognised qualification.
Now you've left school, what's next? CP+ Training, Manoeuvres Clinic and worldwide trips.
Interested in Paragliding but not ready to commit to training? Spend a week with us, enjoy at least 3 tandem flights and get a real introduction to this wonderful sport.
welcome to
If you want to fly, you've come to the right place!
​
The area we use for our training enables us to maximise your training time and ensures rapid progress. We have local training slopes to cover all wind directions. For your later, higher flights we have a huge takeoff served by a chairlift. It's as though the Sopot area has been specifically designed for flying paragliders.
We keep the groups small, a maximum of 3 students per instructor meaning you get all the attention you need in this critical phase of your flying career.
​
We are the only paragliding school offering single rooms at no extra charge. Breakfast and evening meals are included.
See a video of the accommodation here.
​
We offer the best value Equipment + Training package deal. More information on that here.
​
Have a browse through our site then please get in touch if you have any questions. We always reply promptly to all enquiries.
Take Your
Flying to
the Next Level
7 Reasons to Fly 4 Seasons
Luxury Accommodation - No Room Sharing!
---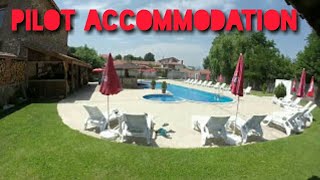 You won't have to worry about sharing a sweaty dorm room or even worse, shared bathrooms. You get your own air-conditioned, ensuite room. There's a swimming pool (seasonal) and an outdoor jacuzzi (year round). Beautiful gardens and a bar onsite. Very fast and free WiFi.
---
Meals are Included
---
You won't be left to find your way around local restaurants/shops after a hard day on the hill. No arguing when the bill comes over who had the T-bone steak etc. Our hearty breakfasts will set you up for a day's adventure. The evening meal is an à la carte 3 course feast. One evening per week, the kitchen is closed and you'll be accompanied to a local town for a meal in a restaurant of your choice.
---
New Equipment
---
We don't use old equipment in our school. Only the latest models and all regularly changed long before they reach end of life. We use reserve parachutes from day one.
---
A small school, we keep student ratios low. Only 3 students per instructor
---
Only 3 Students per instructor. Our student/instructor ratios are lower than BHPA recommendations and we believe this is critical to your success. We are not the biggest school, we like it like that. We're able to provide a flexible and personal service, you'll get all the attention you need to get qualified.
---
Modern, Air Conditioned Vehicles
---
Travel in comfort both to and from the airport and during your training. Airport transfers are included.
---
Huge Selection of Training Sites
---
We can cover all wind directions. Weather has never caused any of our students not to get their ratings.
---
Continuing Support
---
After training we're always available to assist with any queries and questions. Our pilot development courses, trips and further training are the best way for you to build your experience and confidence. Be part of the team.
---
---
We tend to attract like minded, adventure seeking types. Many of our students arrive alone and leave with new friends.
After you've qualified and gone home, you're still considered part of the team. We keep in contact via a chat group where we discuss new techniques, share experiences and plan new adventures.